Author Archive
« Older EntriesNewer Entries »
Tuesday, February 28th, 2017—
News
On Tuesday, February 28, 2017, I completed CARE Canada's Walk In Her Shoes challenge. The annual initiative aims to raise funds and awareness for the women and girls worldwide who walk an average of 10,000 steps each day to gather water, food, firewood and other basic necessities. For those females, walking that much leaves little time to get an education or earn an income, locking them into a cycle of poverty.
Thank you to my sponsors, who helped me raise $555 for CARE's Healthy Moms, Healthy Babies initiative, and to the friends who joined me for the walk, including Kickass Canadian Gavin Thompson. You can read more about our walk here.
Since its inaugural year, Kickass Canadians has organized several CARE Canada fundraisers. I'm proud to partner with such an important charity that does great work toward ending poverty and elevating the status of women and girls.
If you'd like to support CARE Canada, please donate here.
Friday, November 11th, 2016—
Film
Arrival (USA 2016, Drama/Mystery/Sci-Fi), Writer: Eric Heisserer; Director: Denis Villeneuve
I write this piece with such a heavy heart. It has been a dark, difficult week.
It feels sadly fitting that the great, the legendary Leonard Cohen, who left us days ago, named his most recent album You Want It Darker. We have gotten that.
As I read about people celebrating what they see as a "white victory" south of the border, and hear of the planned changes by the upcoming administration to repeal so much progress, to weaken environmental protection (when we've already been told by the experts that we hadn't been doing enough)…
It's hard to know what to do next. Yet while some of the acts taking place right now are indefensible, there's another side to all of this. This election, and the climate that made it possible, has illuminated the gaps, the wounds, the divides, and proven the need for better understanding, on all parts. Because we have clearly not been speaking the same language.
In Cohen's death, we lost one of our most gifted artists. But I take solace in the fact that another talented, highly reflective Canadian artist is still hard at work, revealing elements of our true nature so we ourselves can take a good look and, with hope, do better.
Denis Villeneuve is one of the best directors working today. He has a facility for making films that examine the world around us. Perhaps more importantly, he has the desire to do so.
From Incendies to Enemy, Prisoners to Sicario, Villeneuve's work has explored current events and social dynamics, and always made the effort to understand the human condition. He eschews gratuitous violence, encourages female empowerment and injects his artistic sensibilities into every film he makes.
And he does all this while delivering gripping entertainment. If his movies continue to be welcomed by the mainstream, we'll all be the better for it.
Villeneuve's latest film is so timely and so poignant that it hurts a bit to watch. But sometimes that's how the truth works. And what a stunning piece of honesty it is.
Arrival is based on Story of Your Life, the brilliant 2000 Nebula Award-winning short story by Ted Chiang about language, love and time. In the film, 12 alien crafts descend from the skies, hovering over various points across the globe. One of those points is Montana, where linguist Louise Banks (Amy Adams) is summoned by Colonel Weber (Forest Whitaker) to join mathematician Ian Donnelly (Jeremy Renner) in deciphering the alien language and learning to communicate with the craft's inhabitants, called heptapods. Specifically, Louise is tasked with determining their purpose on Earth.
Nearly from beginning to end, Arrival is fraught with tension. As teams at each of the 12 points race to communicate with the heptapods, concern grows over when the exchanges will grow violent—that is, when governments will unilaterally decide to attack the heptapods. Far from cooperating, nations examining the crafts start shutting each other out, guarding their discoveries like trade secrets.
There is also, of course, the more immediate fear over Louise and Ian's safety, as they work tirelessly to progress in their communications. Villeneuve and cinematographer Bradford Young (A Most Violent Year) gorgeously capture every one of Louise and Ian's dimly lit, eerie but exquisite contacts with the heptapods. As envisioned by the filmmakers, the creatures are stunning, with spindly bodies looking more like giant, delicate, dexterous seven-fingered hands than any earthly body.
The heptapods' graceful, fluid movements are mirrored by the flowing fog that pours over the Montana site when Louise and the crew first approach the craft. As they move in closer to the elegant, oblong oval poised above ground, surrounded by misty mountains, it's impossible not to be affected by the beauty.
That clash, that collision between unknown menace and hypnotic allure, is punctuated by Jóhann Jóhannsson's enigmatic score. Jóhannsson is the genius behind Sicario's pulsing soundtrack, and his music plays an equally powerful, defining role in Arrival. His score is spare, spooky and otherworldly, at times melodic, others metallic and almost grinding, but always deeply poetic and affecting, the perfect mouthpiece for Villeneuve and Young's visuals.
Together, these powerhouse artists maintain a tightrope level of tension throughout the film. But you're never alienated from the story's human heart because Villeneuve and the extraordinary Adams always keep Louise at the forefront.
Louise is haunted by memories of her deceased daughter, and her work with the heptapods frequently triggers words and visions from their time together. As she becomes more familiar with the heptapods' language, Louise begins to understand that time doesn't exist for them the way it does for us. Their language, like their physics, is out of this world.
The heptapods use a semasiographic writing system that conveys meaning without reference to speech. It isn't confined by linearity the way spoken words are. Instead, it relies on complex symbols (brought beautifully to visual life in smoky, ink-link graphics that can be drawn into the air), which require knowing in advance everything you want to say before writing a single symbol. Once you truly learn the language, time will cease to function as it did before; you'll be able to see the interconnection between past, present and future.
Arrival's story structure reflects its inventive ideas about language. It weaves through chronology in an unconventional way, asking us to piece it all together at the end. Chiang did this so effectively in his short story, and screenwriter Eric Heisserer does him justice with his adaptation. Heisserer's screenplay streamlines and consolidates where the medium demands it, but maintains the original story's power and message. It also makes a stronger case about the need for global unity and the dangers of miscommunication, making the film all the more meaningful today.
At one point in Arrival, Louise explains a linguistic theory about how language shapes the way we think and perceive the world around us. It can enlighten. It can also enclose. In other words: the words we use matter. That's something we dearly need to remember as we face an increase in the language of hate and divisiveness.
I'd been looking forward to seeing Arrival since last year. I'll happily see any Denis Villeneuve film, but after reading Story of Your Life, I was even more excited for this one. I had no idea these would be the circumstances under which I'd be watching Arrival—that the film would be so significant on so many fronts. But whether forlorn or uplifting, its relevance only adds to its importance.
See Arrival because it's a wonderful work of art made by some of the greatest filmmakers of our time. Because it's intelligent, thought-provoking and gripping. And because it is, ultimately, about the value of life, no matter what the outcome, and the fact that life never really ends as long as we remember it, and that it is still—always—worth looking forward, creating new life and cherishing it for however long we hold it.
In his latest album's title song, Leonard Cohen sings this:
There's a lover in the story / But the story's still the same / There's a lullaby for suffering / And a paradox to blame / But it's written in the scriptures / And it's not some idle claim / You want it darker / We kill the flame
But from earlier records, those that cannot be erased, there's also this:
Ring the bells that still can ring / Forget your perfect offering / There's a crack in everything / That's how the light gets in
I've seen the nations rise and fall / I've heard their stories, heard them all / But love's the only engine of survival
Hallelujah.
*          *          *
Thank you to Paramount for the advance ticket to Arrival.
For more on the great work of Denis Villeneuve, see my Kickass Canadians article.
Thursday, September 22nd, 2016—
News
Amazing news—Now That I'm Here is currently at the top of Blurb Books' bestseller list! And Toujours ici, its French translation, is in the Top 20. Thank you to everyone who ordered a copy! Together, we're increasing awareness of mitochondrial disease and raising funds for the CHEO Research Institute. You can learn more and order your copy here.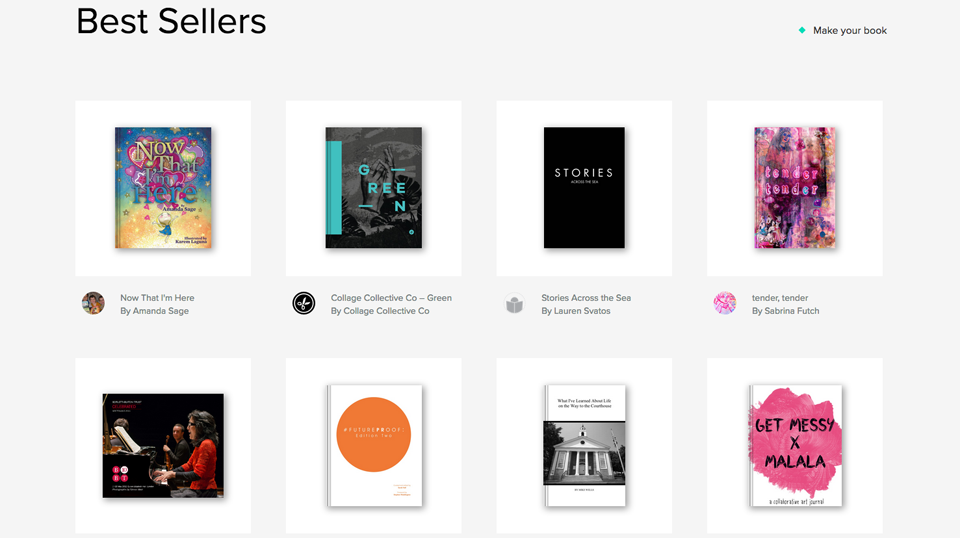 Sunday, September 18th, 2016—
News
Now That I'm Here, the fourth children's book from my publishing shingle, Wonderpress, is now available in English and French for print-on-demand orders.
The book is a loving tribute to a young girl from Ottawa name Kate Drury, who passed away last year from mitochondrial disease. It's also a universal story that aims to help children understand death, illness and disability in an uplifting way. All profits go to the CHEO Research Institute in support of research into SIFD, the type of mitochondrial disease Kate suffered from.
Here's what people are saying:
"Now That I'm Here is a touching, helpful book for all of us who deal with illness growing up. A lovely, sad, good and loving tribute that gives hope and strength where it's needed most." —Chris Hadfield, astronaut & The New York Times bestselling author (An Astronaut's Guide to Life on Earth, You Are Here, The Darkest Dark)
"This heartfelt storybook reads as a gentle tribute to resilience, imagination and an inspiring little girl. Kate's letter to us is tender and stirring, accompanied by dazzling and colourful illustrations." —Sean Michaels, Giller Prize-winning author (Us Conductors)
"Now That I'm Here is a strikingly beautiful and moving eulogy for the death of a child. The story masterfully captures the voice of a young girl, and its heartfelt optimism in the face of the darkest circumstances is profoundly emotional." —Hannah Moscovitch, award-winning playwright (East of Berlin, The Russian Play, This Is War)
For the latest updates on Now That I'm Here, please 'Like' the book's Facebook page.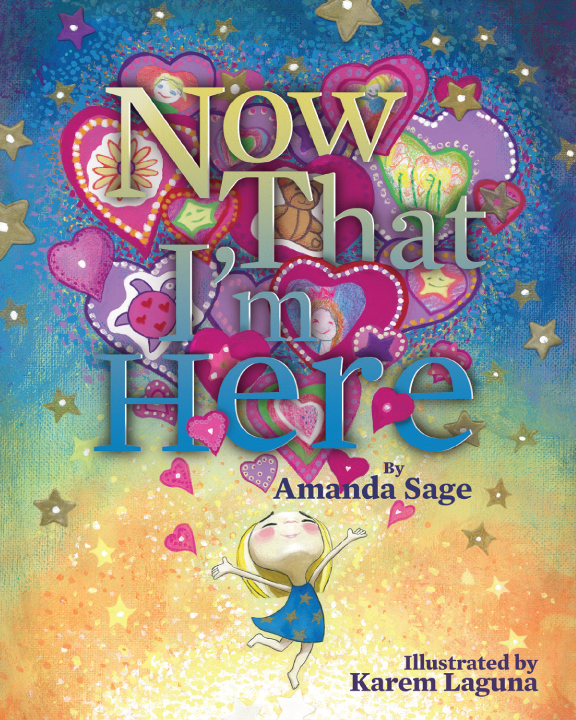 Saturday, September 17th, 2016—
News
Rebecca Lee of Service Dog Tales wrote a glowing review of my latest children's book, Now That I'm Here! Her site features reviews of kids' books that address disability. I had the pleasure of meeting Rebecca in the Daytime Ottawa greenroom before our interviews. You can watch her segment, on the Lions Foundation of Canada Guide Dogs, here.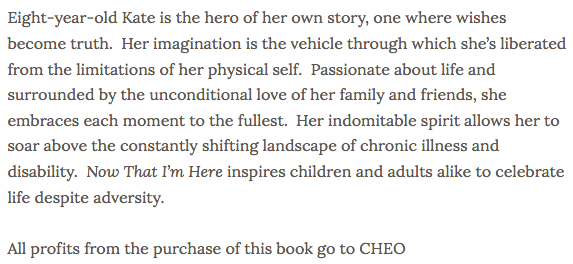 Friday, September 16th, 2016—
News
Thanks to Rogers TV's Daytime Ottawa for interviewing me about Now That I'm Here! You can watch the segment here.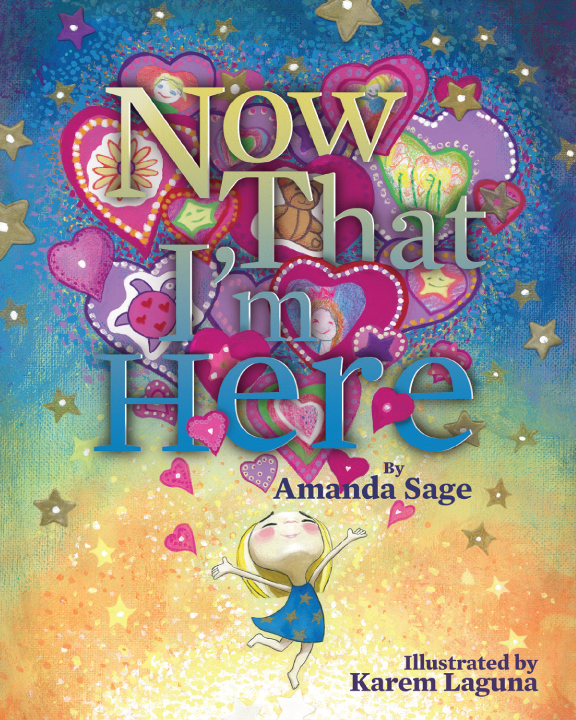 Thursday, September 15th, 2016—
News
Thank you to writer Bhavana Gopinath for the Kitchissippi Times piece on my latest Wonderpress children's book, Now That I'm Here, which comes out September 18, 2016.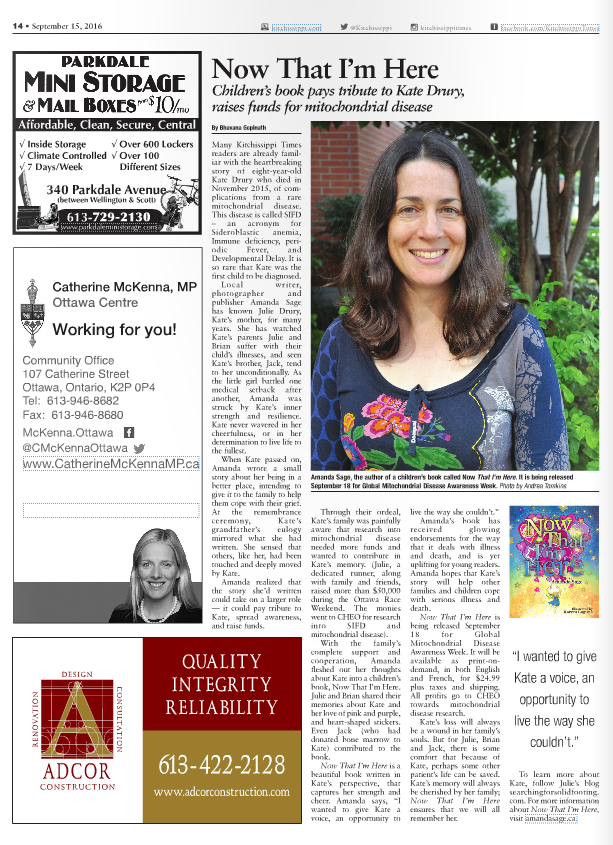 Tuesday, September 6th, 2016—
News
Thanks to the Ottawa Citizen and writer/photographer Bruce Deachman for the great piece on my new children's book, Now That I'm Here. The book will be available to order via print-on-demand as of September 18, in English and French, with profits going to the CHEO Research Institute.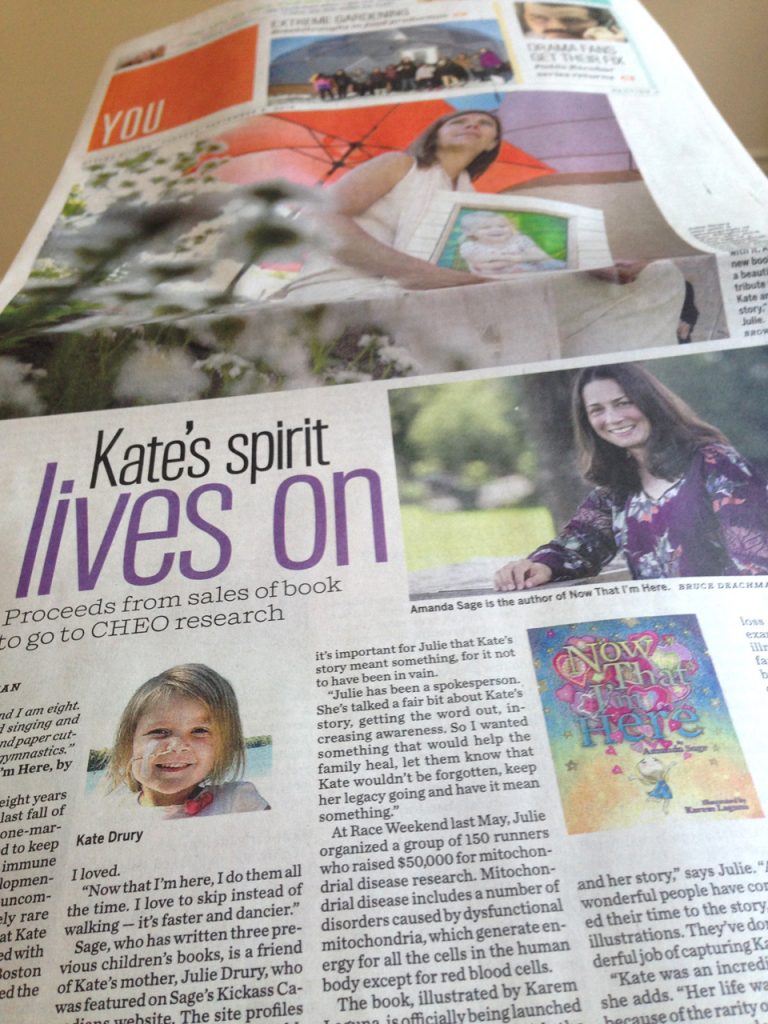 Wednesday, August 24th, 2016—
Film
The Babadook (Australia/Canada 2014, Horror), Writer/Director: Jennifer Kent
I took my time getting to The Babadook, but this one is definitely a case of "better late than never."
Horror is a genre I tend to avoid. I hate gratuitous violence and don't like being scared just for the hell of it. The Babadook is horror I can handle; instead of cutting up bodies, it dissects psyches.
Specifically, the film looks at the strained relationship between widowed mother Amelia (played beautifully by Essie Davis) and her son, Samuel (Noah Wiseman). Amelia's husband died in a car accident while driving her to the hospital for Samuel's birth. Six years later, she still can't bear to celebrate Samuel's birthday on its proper day.
Things are strained in Amelia's household to begin with. Both she and Samuel are troubled sleepers plagued by nightmares. Amelia dreams about her husband's accident. But Samuel is haunted by a faceless monster. He can't put a name to it; he just knows it's there.
Every night, Samuel and his mother go through the ritual of inspecting his closet, peering beneath under his bed. And during the day, he practises magic tricks and fires off homemade weapons: "I'll kill the monster when it comes, I'll smash its head in!"
It's all an attempt to protect himself and his mother from whatever darkness is descending, but it only adds to the mounting pressure on Amelia. Samuel is unruly, uncontrollable. He gets expelled from elementary school for endangering other children. His manic energy and incessant calls of "Mommm! Mahmmmmmmm!!!!" wear on her nerves, already fraught from chronic sleep deprivation. She's quick to snap, even when he simply hugs her too hard.
And then we meet Mister Babadook. "If it's in a word or in a look, you can't get rid of the Babadook." Samuel finds him in an authorless pop-up book his mother hasn't seen before; it's been sitting on the shelf, out of sight, perhaps not out of mind.
The book is a brilliant way of introducing the film's demon—a dark man in a top hat and black cloak who kills children in their beds. With its chilling yet artful illustrations and eerie, poetic writing, Mister Babadook creeps into the viewer's psyche just as much it does Amelia's and Samuel's.
"You start to change when I get in, the Babadook growing right under your skin."
Amelia quickly puts an end to the story, but it's too late; Samuel knows what's coming. As his obsession with building weapons grows, so does Amelia's anger and frustration with her son. She insists that the monster isn't real, but he's certain that it's only getting closer.
He isn't wrong. The question is: Where does the Babadook truly reside? In their closets, cupboards and basement? In Amelia's mind? Maybe in both.
That, to me, is the most intriguing part of the movie—its exploration of fantasy and reality, sanity and delusion. It reminded me a bit of Take Shelter, in how it asks the audience to decide, at least for a time, whether the threat is real or imagined, and in how it throws light (and shadow) on mental illness.
The Babadook isn't afraid to show us something really scary, and its impact is profound and disturbing. In place of cheap thrills and gore, it uses imaginative, often abstract visuals. The film does a lot with its soundscape, too; whenever the Babadook stirs, we hear a chilling mix of repetitive sounds that are almost familiar, almost identifiable, like crickets at night or the electrical buzz of an unstable light bulb about to burn out.
Amelia tries to silence the noises by destroying the book, but the more drastic her attempts to bury it, the more fiercely it returns. "The more you deny me, the stronger I get."
The Babadook becomes a metaphor for Amelia's grief and depression. She's stuck in the moment of her husband's death, unable to process her emotions. She's also suffocated by the guilt of blaming Samuel and the unease of her son standing in as her only companion.
Their relationship never crosses any sexual lines, but there's a tangible discomfort from Amelia. At one point, Samuel bursts in on her in the night, interrupting an intimate moment while she's alone in bed (there's that electrical buzzing sound again…), and it highlights the strangeness of their dynamic—how Samuel's birth brought about her husband's death, effectively replacing one with the other.
As the world grows ever darker for Amelia and Samuel, we're forced to wonder exactly what's true. Amelia is being driven into psychosis through depression and sleep deprivation. And yet there he is, Mister Babadook—lurking in corners, scuttling and spattering across the ceiling like an insect or an inkblot, morphing, indeterminate, a Rorschach test. What is he? What is it? What does it mean to Amelia? What does it mean to us? And which demon would be harder to exorcise: the supernatural or the psychological?
The Babadook shows us that we don't always have to eradicate our demons. Sometimes it's enough to be aware of their presence and learn how to manage them. Because sometimes these things—in the shadows, in the mind—never really go away.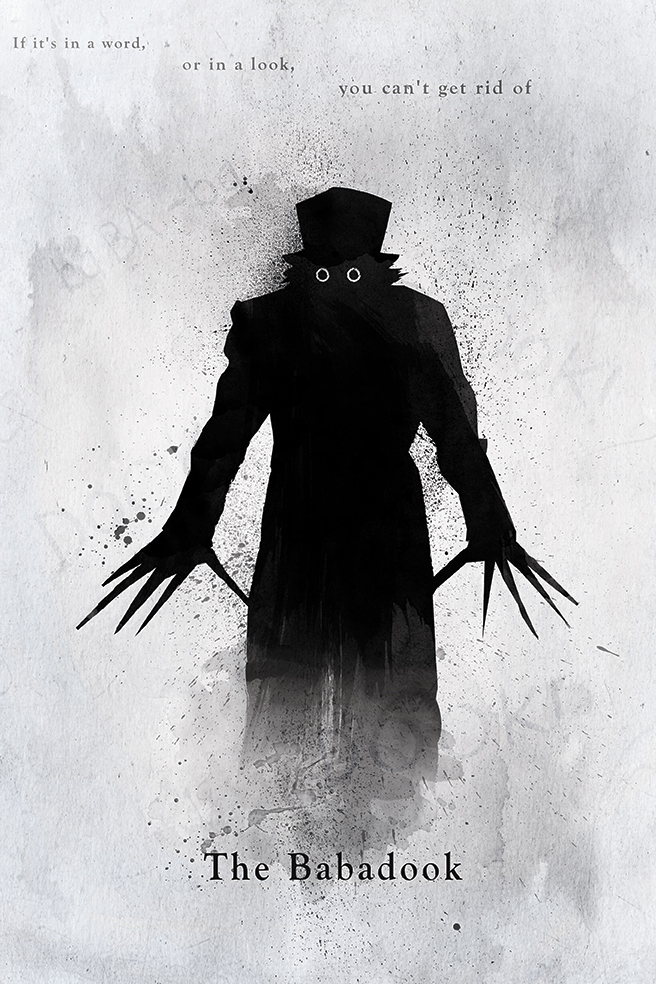 *          *          *
Thank you to RW for flagging this film to me.
Sunday, May 1st, 2016—
News
Astronaut and overall extraordinary human being (and Kickass Canadian!) Chris Hadfield has endorsed my upcoming children's book, Now That I'm Here:
"Now That I'm Here is a touching, helpful book for all of us who deal with illness growing up. A lovely, sad, good and loving tribute that gives hope and strength where it's needed most."
Thank you so much, Chris!
Published through my shingle, Wonderpress, Now That I'm Here is a tribute to young Kate Drury and will raise funds for the CHEO Research Institute in support of research into SIFD, the type of mitochondrial disease she suffered from. It will be available for print-on-demand orders, in English and French, this September 2016, in time for Global Mitochondrial Disease Awareness Week.
Here's a look at one of the illustrations in progress, by the gifted Karem Laguna: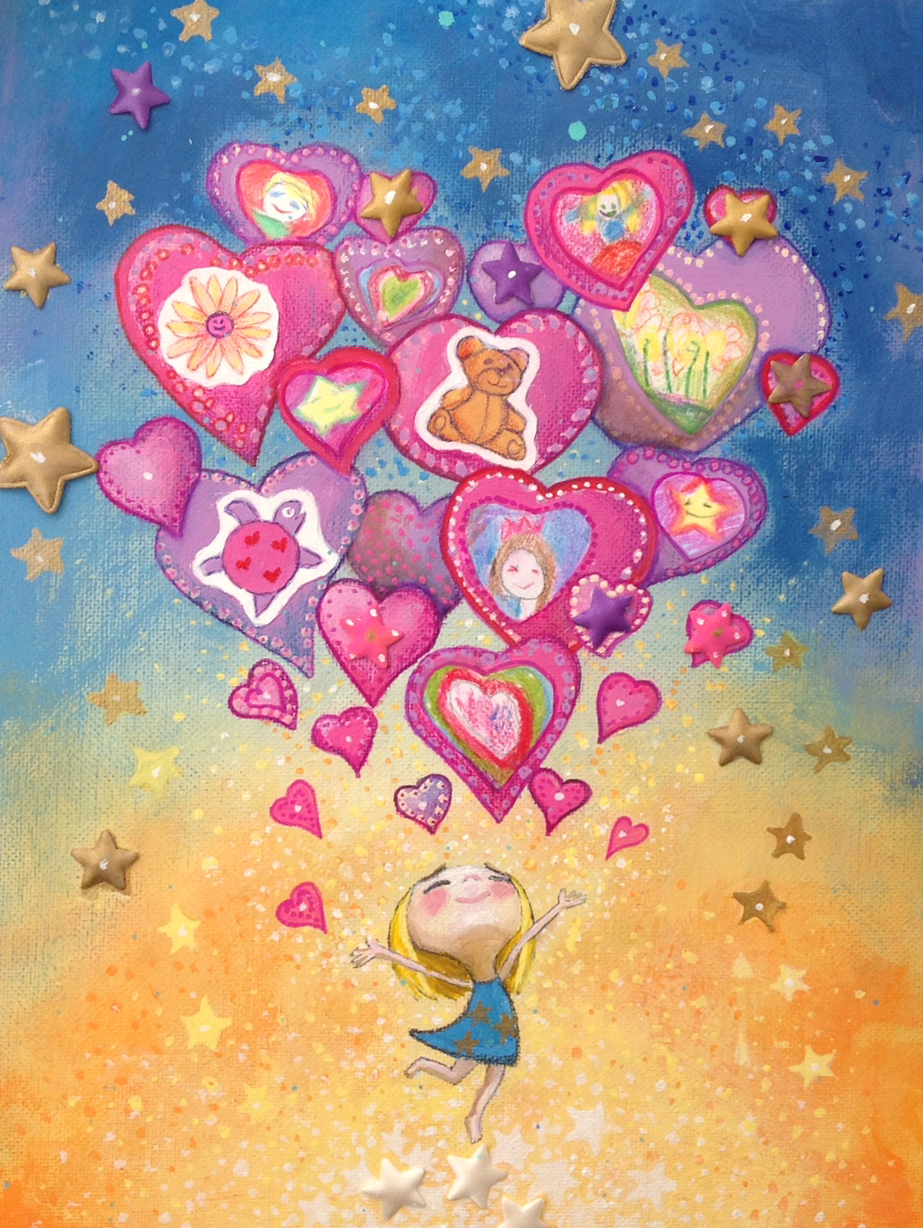 You can learn more here. For the latest updates, please 'Like' the Now That I'm Here Facebook page.