Author Archive
Wednesday, December 20th, 2017—
Film
Every Brilliant Thing (USA 2016, Documentary), Writers: Duncan Macmillan, Jonny Donahoe; Directors: Fenton Bailey, Randy Barbato
Babies laughing.
That would be on my list if I kept a list of Every Brilliant Thing worth living for.
That's what the unnamed central character does in Every Brilliant Thing, a play by Duncan Macmillan, which was filmed over three performances in New York City to produce the HBO documentary of the same name.
The character started the list when he was seven years old, in response to his mother's first suicide attempt: his own eight-page attempt to remind his mother of Every Brilliant Thing that makes life worth living. At such a tender age, his sweet, innocent, loving list included things like "staying up past your bedtime and being allowed to watch TV."
Sadly, his mother's struggle with mental illness continued. When she gave him cause to revisit the list, it matured along with him to include items like "the smell of old books" and "when someone actually reads the book you recommend." Eventually, the list swelled to more than one million Things.
A one-man play, Every Brilliant Thing is narrated by an adult version of the boy, embodied by British comedian Jonny Donahoe. He recounts his life and the impact his list has had. But as with most great stories, it's not what he says; it's how he says it.
The show takes place in a small, bare studio and is performed in the round, with the audience surrounding Donahoe on all sides. Before the show begins, select audience members are given numbered items from the list, and Donahoe calls on them throughout the show to read the items out loud. During the performance, he also chooses audience members to play supporting characters—his first love, his father, the veterinarian who put down his beloved dog.
I happened upon this documentary while feeding my little one—and yes, listening to her laugh. As a new mom, I have much less opportunity to get out to movies, and the few I watch at home are never seen in one viewing.
I also have less time to write about movies, so I hope you'll join me on this shortcut. Here's my Top Three list of what I loved most about Every Brilliant Thing:
1. It presents documentary as life. There are no talking heads; it's just a beautiful, touching story told masterfully by Donahoe and supported by heartfelt, genuine reactions from the audience. Of course, the documentary's subject is the play itself, so it's a bit of a cheat—there's no call for talking heads with Donahoe leading the way. But watching audience members participate and respond provides all the commentary you would ever need. It's a lovely reflection and telling of the play, and the film doesn't require anything more. (Wisely, it rarely departs from straightforward footage of Donahoe and his audience, other than to nod its head at a few black and white memories, raise its voice on the soundtrack at key moments, or add a few titles here and there.)
2. The list itself. It's such a joyous celebration of life. In a world where many people focus too often on their lists of pet peeves, what a thing to celebrate the great (and minute) details that make life on this planet worth living.
3. Audience engagement/participation. It's a brilliant thing to behold, seeing the emotion come forward as unprepared audience members enact scenes from someone else's story. It's an exercise in watching what happens when people really listen to one another.
Theatre can create such a safe, welcoming space for this kind of connection. Every Brilliant Thing brings back many memories for me: of a show I saw at The Lee Strasberg Theatre & Film Institute in New York City, a few months after 9/11, in which audience members were invited to hold hands and join the cast in communal healing; of joining National Arts Centre actors in their group exercises as they got acquainted for the first time before a read-through of Twelfth Night (directed by Kickass Canadian Jillian Keiley).
Most significantly, it reminds me of a play I saw a few years ago, Martin Moran's The Tricky Part. Another one-man show, it bravely addresses Moran's real-life experiences of surviving child sexual abuse and, subsequently, attempting suicide. Like Donahoe, Moran interacts with his audience. He started the show chatting with us all, and when he slipped into the scripted narration, it was so organic that I couldn't say exactly when it happened; I just realized at some point that he had already drawn us in.
If you follow this blog, you'll know that, in general, I'm drawn more to film than to theatre. It's what I studied, and I love the intimacy the camera offers, the cinematography, the limitless potential with location, with sound and score. But only live theatre can create a space for real-time interaction, real community and connection, the way Donahoe and Moran do. It's a remarkable and very special thing to be part of.
Amazingly, Every Brilliant Thing achieves what The Tricky Part also manages: handling intensely difficult subject matter with care and grace, while eliciting much more laughter from its audience than tears (though there are both, to be sure). It feels at once deeply personal and also universal. Unlike The Tricky Part, Every Brilliant Thing isn't a true story. But it feels like one.
If you get the chance to see the documentary on HBO, I hope you'll take it.
*          *          *
For my brilliant baby girl, who tops the list.
Wednesday, August 16th, 2017—
Film
A Better Man (Canada 2017, Documentary), Writer/Directors: Lawrence Jackman, Attiya Khan
When my friend TS told me a couple years ago about an upcoming documentary that explores conversations between a woman and her former abuser, I was amazed and excited. I'd never heard of any film like it, and I knew how important it could be.
I studied both film and psychology in university, and wrote my psych thesis on the benefits of reconciliation between survivors and perpetrators (only when the offender is able to take responsibility). I believe we need to adopt a holistic, inclusive approach to address and move away from gender-based violence. For healing to happen, we must find ways of bringing people together and facilitating an inclusive dialogue, not furthering the divide.
That's exactly what A Better Man does, and very well. The film bravely takes on the challenge of silence, secrecy and shame that enshrouds domestic abuse situations—and then it takes an even bolder step further. By giving voice to the survivor (co-writer/co-director Attiya Khan) as well as her abuser (ex-boyfriend Steve), it reveals how much there is to gain from involving both parties in the healing process.
A Better Man paints a raw yet delicate portrait of a violent relationship. It opens with Attiya and Steve having a starkly honest, respectful conversation in a Toronto coffee shop. Then it goes on to follow them revisiting places where the abuse occurred (their old apartments—as Steve says in the film: "These things only take place where you can get away with it, where it isn't seen."), and to listen in on further, therapist-led conversations between the pair.
The film is never heavy handed because it doesn't have to be; there are no dramatic re-enactments or shocked reactions from friends and family. Instead, A Better Man simply presents what happened: the truth. Its subject matter and the subjects themselves bring all the weight that's needed, and their impact is huge.
Kudos to first-time director Khan for her remarkable work, alongside co-director Lawrence Jackman. I had the privilege of interviewing Khan for my other website, Kickass Canadians; you can read that piece here.
To learn more about the film and where you can see it, please visit abettermanfilm.com.
*          *          *
Thanks TS for pointing me toward Khan and A Better Man.
And thank you to both Attiya and Steve for their courage and honesty. The world is better for it.
Wednesday, March 1st, 2017—
News
The Kickass Canadians share their reflections and insights on what Canada 150 means to them—and what they hope to see from our country as we move forward together.
Tuesday, February 28th, 2017—
News
On Tuesday, February 28, 2017, I completed CARE Canada's Walk In Her Shoes challenge. The annual initiative aims to raise funds and awareness for the women and girls worldwide who walk an average of 10,000 steps each day to gather water, food, firewood and other basic necessities. For those females, walking that much leaves little time to get an education or earn an income, locking them into a cycle of poverty.
Thank you to my sponsors, who helped me raise $555 for CARE's Healthy Moms, Healthy Babies initiative, and to the friends who joined me for the walk, including Kickass Canadian Gavin Thompson. You can read more about our walk here.
Since its inaugural year, Kickass Canadians has organized several CARE Canada fundraisers. I'm proud to partner with such an important charity that does great work toward ending poverty and elevating the status of women and girls.
If you'd like to support CARE Canada, please donate here.
Friday, November 11th, 2016—
Film
Arrival (USA 2016, Drama/Mystery/Sci-Fi), Writer: Eric Heisserer; Director: Denis Villeneuve
I write this piece with such a heavy heart. It has been a dark, difficult week.
It feels sadly fitting that the great, the legendary Leonard Cohen, who left us days ago, named his most recent album You Want It Darker. We have gotten that.
As I read about people celebrating what they see as a "white victory" south of the border, and hear of the planned changes by the upcoming administration to repeal so much progress, to weaken environmental protection (when we've already been told by the experts that we hadn't been doing enough)…
It's hard to know what to do next. Yet while some of the acts taking place right now are indefensible, there's another side to all of this. This election, and the climate that made it possible, has illuminated the gaps, the wounds, the divides, and proven the need for better understanding, on all parts. Because we have clearly not been speaking the same language.
In Cohen's death, we lost one of our most gifted artists. But I take solace in the fact that another talented, highly reflective Canadian artist is still hard at work, revealing elements of our true nature so we ourselves can take a good look and, with hope, do better.
Denis Villeneuve is one of the best directors working today. He has a facility for making films that examine the world around us. Perhaps more importantly, he has the desire to do so.
From Incendies to Enemy, Prisoners to Sicario, Villeneuve's work has explored current events and social dynamics, and always made the effort to understand the human condition. He eschews gratuitous violence, encourages female empowerment and injects his artistic sensibilities into every film he makes.
And he does all this while delivering gripping entertainment. If his movies continue to be welcomed by the mainstream, we'll all be the better for it.
Villeneuve's latest film is so timely and so poignant that it hurts a bit to watch. But sometimes that's how the truth works. And what a stunning piece of honesty it is.
Arrival is based on Story of Your Life, the brilliant 2000 Nebula Award-winning short story by Ted Chiang about language, love and time. In the film, 12 alien crafts descend from the skies, hovering over various points across the globe. One of those points is Montana, where linguist Louise Banks (Amy Adams) is summoned by Colonel Weber (Forest Whitaker) to join mathematician Ian Donnelly (Jeremy Renner) in deciphering the alien language and learning to communicate with the craft's inhabitants, called heptapods. Specifically, Louise is tasked with determining their purpose on Earth.
Nearly from beginning to end, Arrival is fraught with tension. As teams at each of the 12 points race to communicate with the heptapods, concern grows over when the exchanges will grow violent—that is, when governments will unilaterally decide to attack the heptapods. Far from cooperating, nations examining the crafts start shutting each other out, guarding their discoveries like trade secrets.
There is also, of course, the more immediate fear over Louise and Ian's safety, as they work tirelessly to progress in their communications. Villeneuve and cinematographer Bradford Young (A Most Violent Year) gorgeously capture every one of Louise and Ian's dimly lit, eerie but exquisite contacts with the heptapods. As envisioned by the filmmakers, the creatures are stunning, with spindly bodies looking more like giant, delicate, dexterous seven-fingered hands than any earthly body.
The heptapods' graceful, fluid movements are mirrored by the flowing fog that pours over the Montana site when Louise and the crew first approach the craft. As they move in closer to the elegant, oblong oval poised above ground, surrounded by misty mountains, it's impossible not to be affected by the beauty.
That clash, that collision between unknown menace and hypnotic allure, is punctuated by Jóhann Jóhannsson's enigmatic score. Jóhannsson is the genius behind Sicario's pulsing soundtrack, and his music plays an equally powerful, defining role in Arrival. His score is spare, spooky and otherworldly, at times melodic, others metallic and almost grinding, but always deeply poetic and affecting, the perfect mouthpiece for Villeneuve and Young's visuals.
Together, these powerhouse artists maintain a tightrope level of tension throughout the film. But you're never alienated from the story's human heart because Villeneuve and the extraordinary Adams always keep Louise at the forefront.
Louise is haunted by memories of her deceased daughter, and her work with the heptapods frequently triggers words and visions from their time together. As she becomes more familiar with the heptapods' language, Louise begins to understand that time doesn't exist for them the way it does for us. Their language, like their physics, is out of this world.
The heptapods use a semasiographic writing system that conveys meaning without reference to speech. It isn't confined by linearity the way spoken words are. Instead, it relies on complex symbols (brought beautifully to visual life in smoky, ink-link graphics that can be drawn into the air), which require knowing in advance everything you want to say before writing a single symbol. Once you truly learn the language, time will cease to function as it did before; you'll be able to see the interconnection between past, present and future.
Arrival's story structure reflects its inventive ideas about language. It weaves through chronology in an unconventional way, asking us to piece it all together at the end. Chiang did this so effectively in his short story, and screenwriter Eric Heisserer does him justice with his adaptation. Heisserer's screenplay streamlines and consolidates where the medium demands it, but maintains the original story's power and message. It also makes a stronger case about the need for global unity and the dangers of miscommunication, making the film all the more meaningful today.
At one point in Arrival, Louise explains a linguistic theory about how language shapes the way we think and perceive the world around us. It can enlighten. It can also enclose. In other words: The words we use matter. That's something we dearly need to remember, as we face an increase in the language of hate and divisiveness.
I'd been looking forward to seeing Arrival since last year. I'll happily see any Denis Villeneuve film, but after reading Story of Your Life, I was even more excited for this one. I had no idea these would be the circumstances under which I'd be watching Arrival—that the film would be so significant on so many fronts. But whether forlorn or uplifting, its relevance only adds to its importance.
See Arrival because it's a wonderful work of art made by some of the greatest filmmakers of our time. Because it's intelligent, thought-provoking and gripping. And because it is, ultimately, about the value of life, no matter what the outcome—that it can never really end as long as we remember it, and that it is still, always, worth looking forward, creating new life and cherishing it for however long we hold it.
In his latest album's title song, Leonard Cohen sings this:
There's a lover in the story / But the story's still the same / There's a lullaby for suffering / And a paradox to blame / But it's written in the scriptures / And it's not some idle claim / You want it darker / We kill the flame
But from earlier records, those that cannot be erased, there's also this:
Ring the bells that still can ring / Forget your perfect offering / There's a crack in everything / That's how the light gets in
I've seen the nations rise and fall / I've heard their stories, heard them all / But love's the only engine of survival
Hallelujah.
*          *          *
Thank you to Paramount for the advance ticket to Arrival.
For more on the great work of Denis Villeneuve, see my Kickass Canadians article.
Thursday, September 22nd, 2016—
News
Amazing news—Now That I'm Here is currently at the top of Blurb Books' bestseller list! And Toujours ici, its French translation, is in the Top 20. Thank you to everyone who ordered a copy! Together, we're increasing awareness of mitochondrial disease and raising funds for the CHEO Research Institute. You can learn more and order your copy here.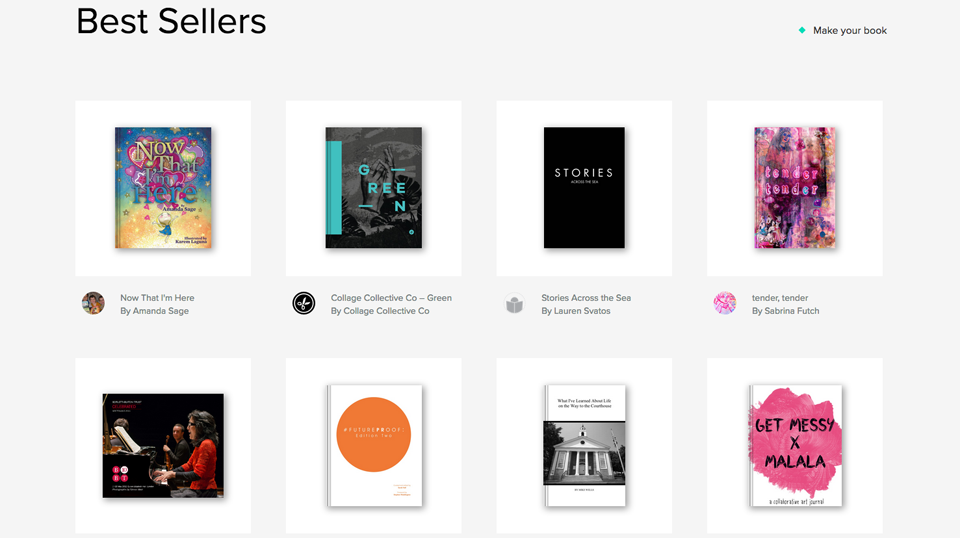 Sunday, September 18th, 2016—
News
Now That I'm Here, the fourth children's book from my publishing shingle, Wonderpress, is now available in English and French for print-on-demand orders.
The book is a loving tribute to a young girl from Ottawa name Kate Drury, who passed away last year from mitochondrial disease. It's also a universal story that aims to help children understand death, illness and disability in an uplifting way. All profits go to the CHEO Research Institute in support of research into SIFD, the type of mitochondrial disease Kate suffered from.
Here's what people are saying:
"Now That I'm Here is a touching, helpful book for all of us who deal with illness growing up. A lovely, sad, good and loving tribute that gives hope and strength where it's needed most." —Chris Hadfield, astronaut & The New York Times bestselling author (An Astronaut's Guide to Life on Earth, You Are Here, The Darkest Dark)
"This heartfelt storybook reads as a gentle tribute to resilience, imagination and an inspiring little girl. Kate's letter to us is tender and stirring, accompanied by dazzling and colourful illustrations." —Sean Michaels, Giller Prize-winning author (Us Conductors)
"Now That I'm Here is a strikingly beautiful and moving eulogy for the death of a child. The story masterfully captures the voice of a young girl, and its heartfelt optimism in the face of the darkest circumstances is profoundly emotional." —Hannah Moscovitch, award-winning playwright (East of Berlin, The Russian Play, This Is War)
For the latest updates on Now That I'm Here, please 'Like' the book's Facebook page.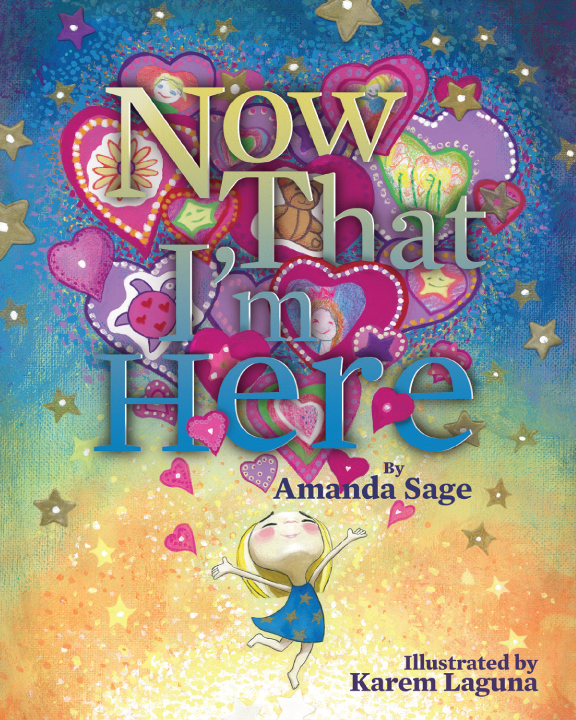 Saturday, September 17th, 2016—
News
Rebecca Lee of Service Dog Tales wrote a glowing review of my latest children's book, Now That I'm Here! Her site features reviews of kids' books that address disability. I had the pleasure of meeting Rebecca in the Daytime Ottawa greenroom before our interviews. You can watch her segment, on the Lions Foundation of Canada Guide Dogs, here.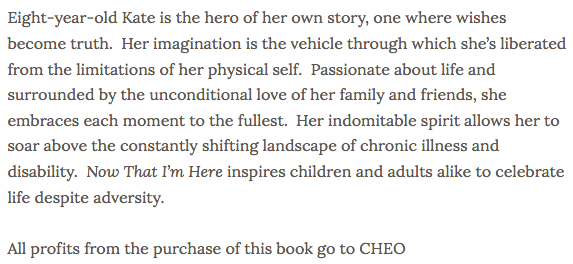 Friday, September 16th, 2016—
News
Thanks to Rogers TV's Daytime Ottawa for interviewing me about Now That I'm Here! You can watch the segment here.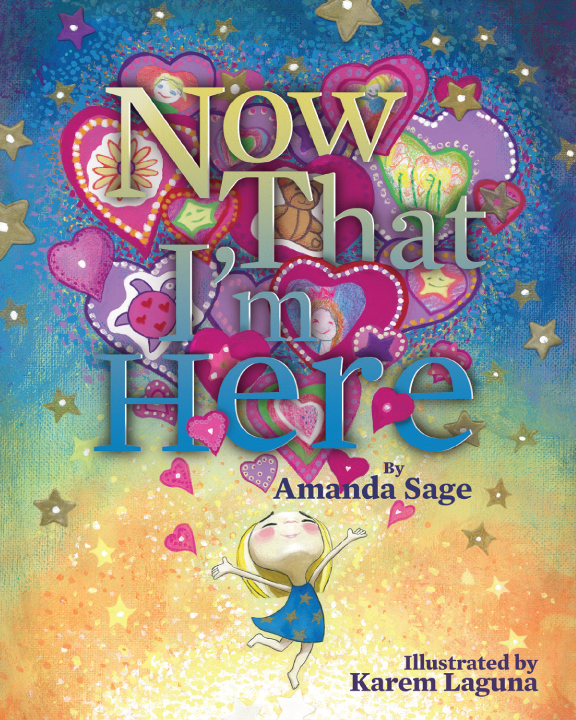 Thursday, September 15th, 2016—
News
Thank you to writer Bhavana Gopinath for the Kitchissippi Times piece on my latest Wonderpress children's book, Now That I'm Here, which comes out September 18, 2016.