The Wonders (Le meraviglie)
Thursday, July 4th, 2019 3:57 pm—
Film
The Wonders (Italy/Switzerland/Germany 2014, Drama), Writer/Director: Alice Rohrwacher
"Have you seen The Wonders? It is a wonderful—literally—recent movie by a great young woman director, set in the countryside… I think you will really like it. The director's name is Alice Rohrwacher. She is one of the very, very few Italian directors who can represent female experience."
That was the recommendation I got this past spring from Frank Burke, one of my film professors while I was studying at Queen's University. Now professor emeritus, he was best known then (and maybe still to this day!) for his love of all things Italian, especially Fellini.
When we reconnected in April, the conversation unsurprisingly turned to films, filmmaking and Italy, all of which led to him recommending The Wonders. I took him up on it, and he was right: it is wonderful and I did really like it. I watched it in pieces, as has been my norm since becoming a mamma. And it's taken until now to get this post up. But I felt moved to finally write something because of how much I enjoyed the film and because of the context around seeing it.
Watching The Wonders took me back to film school. It was "assigned" through a prof, yes. But also, the film itself is that special hybrid of an immersive viewing experience—even in pieces!—that is still worth pondering months later. For me, it reinforced film's power to tell stories and histories, to reflect on cultures and offer a variety of viewpoints. And it stirred up all sorts of reflections on the great films I studied at Queen's, seen from hard-backed lecture hall chairs, or from wobbly-backed Film House stools while leaning over DVD viewing stations, headphones locking out the surrounding world and inviting me into another.
This world, the one of The Wonders, is largely concerned with Gelsomina (Maria Alexandra Lungu). She's the eldest of four daughters to parents Angelica (Alba Rohrwacher, the writer/director's sister) and Wolfgang (Sam Louwyck), beekeepers nestled in the Tuscan countryside. The family is struggling to sustain their way of life, especially in the face of new European farming codes they can't afford to meet.
The film's gentle conflict begins brewing into something stronger when two things happen: Gelsomina stumbles onto the set of a reality TV show called Countryside Wonders and registers her family's business in hopes of winning the prize money, despite her father's disapproval; Wolfgang, in turn, hosts Martin (Luis Huilca), a German farmhand from a paid youth-reform program, despite his wife's concerns.
Through that narrative—but even more so, through Rohrwacher's sensitive, lyrical direction—what The  Wonders really explores is the claustrophobia and closeness that comes of a loving family living in such small quarters. And the tenderness they show each other, mainly between the sisters and their mother ("When he's not here we can breathe," Angelica says of her husband), but also, ultimately, from Wolfgang as well, despite his gruffness.
The Wonders also looks at people and cultures grappling with changing times. While watching the film, as if in a slideshow or on a ride down a sun dappled, tree-lined lane, different films I'd seen at Queen's flickered through my mind. Bye Bye Brazil for its nod to carnival, showmanship and fading ways of the past. Chocolat (the 1988 French/African film from writer/director Claire Denis, not the Juliette Binoche / Johnny Depp confection) and Daughters of the Dust, even what I remember of Burnt by the Sun, for their portraits of the final clashing strokes of cultural and political shifts, but also for providing a child's perspective on an adult world. It's a very different lens through which to interpret events, and it lends a compelling new look.
Other films came to mind, too—ones I've seen more recently. Call Me By Your Name, which I adored but didn't get to writing about here. For its Italian countryside, of course, and also its direction; the lingering gaze, the silences, the way it lets characters and emotions play out in real time, exploding or softly simmering. The Wonders adopts a similar approach, with its languid layers and organic flow, a camera that takes its time without missing a beat, pacing the film so we can look in on a life, on lives, and really sense who the characters are. Rohrwacher spins poetry from everyday routine. And all that outdoor time, the rooms that flow one to the next, never shutting her characters off from their nature.
I also thought of Sleeping Giant: youth at play—particularly in the water, as the girls of The Wonders so often are—discovering themselves, hinting at the many directions life could claim. And Moonrise Kingdom, completely different in tone but still delighting in the way children are, as Rohrwacher frequently does. For example, how the sisters frolic and interact; at one point, Gelsomina instructs Marinella (Agnese Graziani) to "drink" sunbeams.
The Wonders does a lot with light and shadow. The most gorgeous moment comes near the end, after Martin runs off and Gelsomina finds him in the caves across the water (youngsters fleeing, playing hide and seek with the beginnings of romance—another nod to Moonrise Kingdom). Martin never speaks; he only whistles. When Gelsomina discovers his hiding place, she enters his wordless world, and there's a glorious scene of shadow dancing, their spirits at play on the cave roofs. Then the camera's wandering eye tilts back down on the two of them sleeping, and you wonder whether the interlude was in their dreams or simply dreamlike.
The Wonders offers a gentle look at growing up, apart, anew, for a culture and a family and a girl. It showcases beautiful direction and imagery, and strong performances from its entire cast, particularly Lungu and Alba Rohrwacher, a celebrated Italian actor. The film was selected to compete for the Palme d'Or at the 2014 Cannes Film Festival and won the Grand Prix. With that, and without hesitation, I'm paying forward the recommendation of The Wonders to you, along with Frank's other Alice Rohrwacher titles, Corpo Celeste and Happy as Lazarus. I haven't seen them yet, but I'm pretty sure I'll love them, too.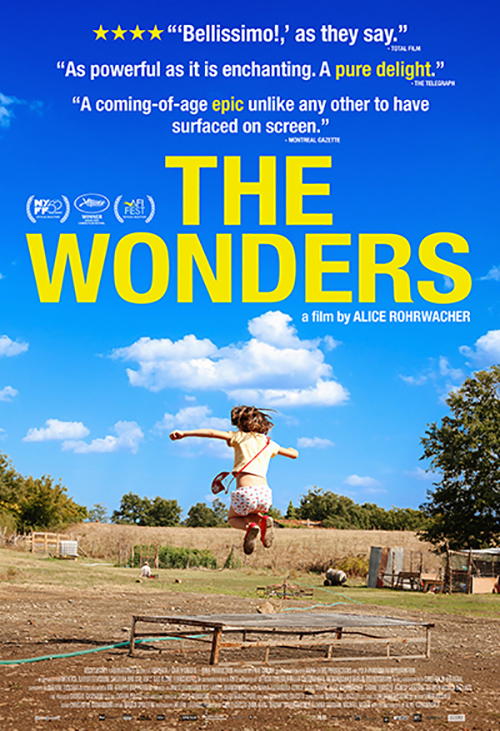 2 Responses
Frank Burke July 4th, 2019 at 7:01 pm

Thanks for mentioning me Amanda. "Wonderful" discussion of the film. I loved your linking it to MOONRISE KINGDOM. Hope you do get a chance to see Rohrwacher's other films.

amanda July 4th, 2019 at 7:16 pm

Thank you, Frank! I will – in time.
Leave a Reply