Long Lost (feat. writer/director Erik Bloomquist)
Friday, March 22nd, 2019 4:08 pm—
Film
Long Lost (USA 2019, Drama/Mystery/Thriller), Writer/Director: Erik Bloomquist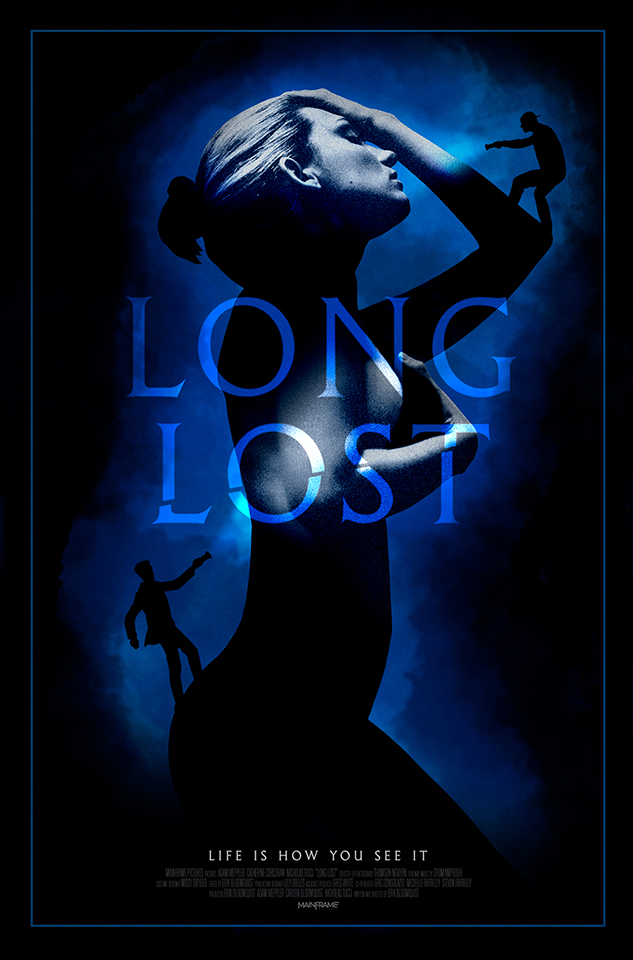 When I first started watching Long Lost, the debut feature from writer/director Erik Bloomquist, I was taken aback. I'd seen some of his previous short films, so I wasn't surprised by how polished and professional his indie feature was. (Thomson Nguyen's cinematography is especially outstanding.) What I wasn't expecting from someone as seemingly thoughtful and understanding as Erik, was a rather unappealing trope: the lone female character as temptress, prize, sex object. Fortunately, by the time I finished Long Lost, it became clear that things in its cineverse are not what they appear. "It's a misdirect," says Erik.
Long Lost is touted as an erotic thriller. Here's the official synopsis: "Long Lost stars Adam Weppler as Seth, a young man invited to spend a long weekend at a Connecticut mansion with his long lost millionaire half-brother Richard (Nicholas Tucci), who, along with his enigmatic live-in girlfriend, Abby (Catherine Corcoran), leads Seth down a psychological rabbit hole wherein luxury and temptation are intermingled with treachery and taboo."
Yet talk to Erik, as I was lucky to be able to, and you get the sense that there's much more going on—that first impressions don't reflect reality. "Long Lost is a meditation on loneliness, identity and the roles we play … wrapped up in a pulpy, dark-humoured genre package," he says. "I hope it leaves people wanting to see it again because it's a very different experience when you're watching it a second time."
He's achieved that goal, at least for me. Our chat left me eager to take another look at the film's screener. And it left an even more positive impression on me than the one he first made when I discovered his work nearly four years ago.
In 2015, Erik reached out to request that I review his short film, The Cobblestone Corridor. Since then, he and his production banner, Mainframe Pictures, have expanded the short into a nationally syndicated television series, which won him two 2017 New England Emmy Awards (Outstanding Writer and Outstanding Director), and garnered an Outstanding Actor win for Nick Moss, as well as six other Emmy nominations, including one for Erik as Outstanding Performer. Mainframe has also created and released several other short films, including Intermedium, which is set for this summer's festival circuit, and has "another couple of features in the works."
Oh, and among many more achievements, Erik delivered an excellent 2018 TEDx Talk at Saint Andrews School and was named one of Connecticut Magazine's 40 Under 40: The Class of 2019 (along with the likes of world-renowned journalist Ronan Farrow).
So he's been busy. "I'm definitely a very long multi-hyphenate," he says. "Holistic storyteller, content creator, teacher, whatever—I'm lucky to be able to work in this business full-time… I think the fact that I do jump back and forth between roles and mediums only strengthens me when I move on to the next."
He decided to create his first feature film as an independent production because, as he says, "people aren't going to 'let' you direct a feature unless you've directed one. For (the sake of everyone involved), it was something we really wanted to do; we didn't want to wait for permission or wait for… somebody to airdrop a bunch of money on us."
Working with whatever private equity they could raise, Erik and his team of longtime collaborators came together, called on favours from fellow cast and crew, and found ways to stretch every dollar so they could make the film "as big (and as thoroughly considered) as it could possibly be without the seams showing," he says. "I've been lucky to work with a lot of the same people over the past five years—super-strong creatives and technicians. I know that's the only way we were able to make Long Lost, a feature film shot in 10 days. It's because we have this mental shorthand and this mutual stake in the project."
The story, which he developed with actor/producer Adam Weppler and writer/producer Carson Bloomquist (his younger brother—although thankfully for their family, Long Lost isn't at all autobiographical!), came about because "we were attracted to this idea of identity shifting based on who is in the room," says Erik. "There are three characters in this movie but there are actually seven different relationship dynamics. There's the group when it's the three of them together, there's each pairing of two and then there's each individual. So even though there are only three people, there are seven different things to explore, and just watching how that shifts based on who walked into or out of a room was very interesting to me. And wrapping it up in this sexy puzzle film, we thought was the best way to do that."
When a sprawling, isolated Connecticut estate became available, the trio crafted the narrative around the location. "Knowing what those rooms looked like and what we had access to certainly informed the choices we were making," says Erik. "(We started from) this idea of family and what it means to be someone's brother or kin if you've never met them before, what kind of allegiances that has, what kind of ties bind. Then the house sort of become a fourth character or echo chamber for the increasingly bizarre eccentricities of that relationship."
Just as the Long Lost characters ultimately delve into questions of identity and intent, Erik hopes that viewers will see his film as an opportunity to reflect on their own lives—their personas, their loneliness, their desires—and to come together, to occupy the same space, whether literally or metaphorically.
"People are in so many different places—they move, they have work, they have whatever. I like creating a piece of art that can magnetize people back to centre… I like making things that are social experiences and that start conversations; things that can feel like thrill rides or awaken people's imaginations in a way that they normally aren't."
*          *          *
Long Lost is slated for a 30-city limited theatrical run beginning March 29, 2019 and an Amazon-exclusive digital release April 10 (National Siblings Day), with more platforms to follow. It has already picked up several awards on the festival circuit, including Audience Choice at the Eastern Oregon Film Festival, Best Feature Film at the Nevermore Film Festival and the Grand Jury Prize at the Laughlin International Film Festival.
You can watch the trailer here.
Leave a Reply