Archive for November, 2015
Tuesday, November 17th, 2015—
Film
Spotlight (USA 2015, Biography/Drama/History), Writers: Tom McCarthy, Josh Singer; Director: Tom McCarthy
In a 2013 interview on The Colbert Report, British philosopher, humanist and author A.C. Grayling proclaimed that, on the whole, religion has done "far more harm" than good. Grayling was on the show to discuss his book The God Argument: The Case Against Religion and for Humanism.
Tom McCarthy's new film, Spotlight, makes a similar case. It depicts the 2001 investigation by The Boston Globe's Spotlight Team into the pandemic of child sexual abuse at the hands of the Catholic Church. The journalists' commitment to wrenching the story out of darkness finally exposed the cover-up that had been quietly documented for decades, and almost certainly going on for much longer.
Spotlight is about the process, the daily grind of bringing such a sweeping story to the foreground. It doesn't focus on sensationalized reenactments of molestation, or low-angle shots of sinister priests with cheekbones chiseled from shadow. It doesn't spin the narrative as a thriller because it doesn't need to. The subject matter is horrifying enough.
Instead, Spotlight hones in on the individual steps each of the reporters must take to pull the story together: late nights at the library; hours squinting through archives in dimly lit basements; interviews and interview attempts; frequent meetings with lawyers; stale hot dogs and leftover pizza dinners.
The film lets us hear some of the survivors' stories. But even those are seen through distanced eyes, as the reporters target the facts and not the emotions. Because, as the Globe team points out, it isn't about one particular case of abuse, or even 87; it's about the system that allowed it to happen.
McCarthy is a perfect choice for covering this subject matter. In his deft hands, watching journalists pore over documents and answer phones isn't dull; it's compelling.
He's already proven his gift for pacing and his light touch with actors, most notably with The Visitor—and Win Win was also a victory. With Spotlight, McCarthy makes full use of his talents, expertly directing an exceptional ensemble cast that more than does justice to their real-life counterparts.
The Spotlight Team includes lead Walter "Robby" Robinson (Michael Keaton, fresh from his incredible turn in Birdman), and his reporters Matt Carroll (Brian d'Arcy James), Sacha Pfeiffer (Rachel McAdams, delivering some of her best work yet, in a carefully studied performance that follows a string of progressively more interesting and challenging roles; her artistic integrity makes me keen to feature her on Kickass Canadians) and Mike Rezendes (the always magnetic Mark Ruffalo—see The Kids Are All Right).
Spotlight also features fine work from Liev Schreiber as the Globe's new editor, Marty Baron; John Slattery as deputy managing editor Ben Bradlee Jr.; Billy Crudup as morally questionable attorney Eric MacLeish; and Stanley Tucci as Mitchell Garabedian, the extraordinary lawyer who fought, and continues to fight, on behalf of sexual abuse survivors. Tucci is a high point in every film he graces, but it's especially nice to see his 2010 portrayal of a child sex offender in The Lovely Bones offset here by a well-drawn portrait of a man looking to correct the crime.
Excluding MacLeish, this dedicated group bands together to challenge an authority so entrenched, almost no one is willing to fight back. Its reach extends far and wide, within Boston and throughout the world, keeping people from speaking out against even the most horrific abuse of the most innocent among us.
Some of the journalists struggle with their own complicity in the scandal; they were all raised Catholic—how could they not have known? But as Garabedian, a man of Armenian descent, points out, "it takes an outsider" to clearly see the situation and be prepared to expose it. Case in point: It wasn't until Baron, a Jewish newcomer to Boston (or "an unmarried man of the Jewish faith who hates baseball"), came on as Globe editor that the Catholic Church investigation was finally assigned to Robinson's team.
Spotlight offers a damning, if cool-headed, indictment of religion, its power to corrupt and its potential as a weapon of mass destruction when held in the wrong hands. The film tells this message through incidents that took place nearly 15 years ago (and then some). Yet its message is still urgently relevant today.
*          *          *
The Spotlight Team won a 2003 Pulitzer Prize for their coverage of sexual abuse in the Catholic Church. Their groundbreaking article, "Church allowed abuse by priest for years," was published January 6, 2002.
Thanks to Cinemablographer's Patrick Mullen for the earlybird tickets to Spotlight. The film opens across Canada on November 20, 2015; I highly recommend it.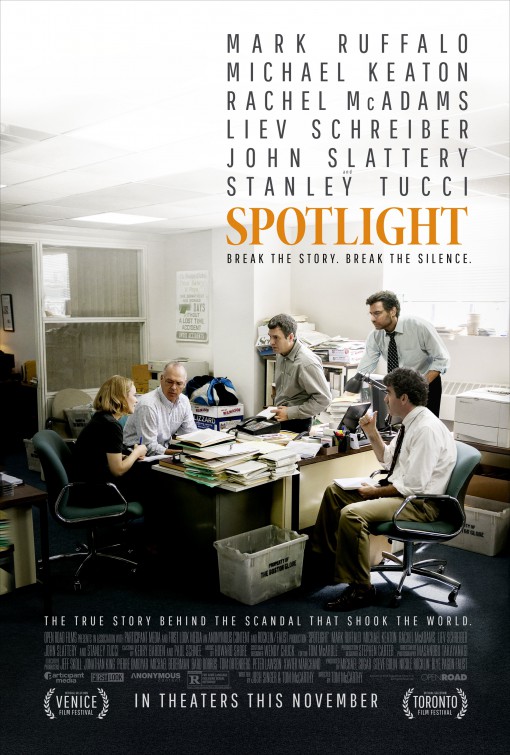 If you'd like a chance to see sneak previews of upcoming films, visit Cinemablographer's contest page. (He's also got lots of great reviews, so check it out!)
Sunday, November 15th, 2015—
Film
Room (Ireland/Canada 2015, Drama), Writer: Emma Donoghue; Director: Lenny Abrahamson
I haven't quite left Room yet. I was transfixed throughout the film, and wasn't able to step completely outside of it after going home; I even spent part of my dreams there.
Room is where Ma (Brie Larson) and her five-year-old son, Jack (Jacob Tremblay), live. It's a compact space where small moments have huge meaning, and where perception marks the difference between joy and despair.
Ma and Jack are captives of Jack's biological father, Old Nick (Sean Bridgers), but the boy doesn't know it. He was born in Room; it's his whole world and universe—not the shed his young mother was locked into seven years earlier.
Ma does what she can to shelter Jack from the horror of their existence, making up stories and tucking him away in Wardrobe when her captor makes his nightly visits. But when Jack turns five, his growing inquisitiveness and the threat of further interference from Old Nick make it clear they can't stay in Room forever.
So Ma seizes a rare, and risky, opportunity to escape the tiny space. And in doing so, she hurls herself and Jack into a world neither one is prepared to handle.
What follows is a brilliant mix of beautifully on-point explorations of character and psychology, and dreamlike observations that only seem possible from someone new to the world, from children full of wonder. At times, Jack's innocent yet deeply insightful reflections reminded me of Beasts of the Southern Wild.
One of Room's greatest strengths is that it dives straight to the deepest end of what really matters in the story. Forsaking coverage of Old Nick's capture, it focuses instead on the struggles everyone in Ma's family faces upon her return—including her now-estranged parents (Joan Allen and William H. Macy), who must each come to terms with what it means to have their daughter back and to have Jack as their grandson.
Room is based on Emma Donoghue's novel of the same name, and the author also delivered the screenplay. She did a stunning job of translating her original work to the screen.
I haven't yet read her book (though I look forward to it), but from what I gather, it's told exclusively from Jack's perspective and takes place almost entirely within Room's four walls (and Jack's imagination, I presume). The film is very much aligned with Jack's point of view, but it takes us outside his young mind by showing us other characters' reactions and expressions; we're able to glean more than he can. Where Room the novel relies on Jack's voice to form the story's underlying fabric, the film weaves his narration in and out of the narrative.
I can imagine the power and originality of the book's approach. But as someone who hasn't read it, I found the film version to be extremely effective on its own, even if some of Jack's unique colouring fades in the adaptation. It moves gracefully from being whimsical to gripping and back again, sometimes frequently within the same scene.
The actors deliver exceptional work, including extraordinary naturalism from Tremblay, and an impeccable performance from Larson—controlled, yet utterly raw. She managed to bring weight to a near-silent role in Don Jon; here, her entrancing portrayal of Ma is sure to garner an Academy Award nomination (if not the award itself). Together, Larson and Tremblay create a magical connection, depicting the unbreakable bond between mother and child—one that makes you believe in the power of good over evil.
As wrenching as the subject matter is, the movie makes room to uplift and affirm. It's a gorgeous piece of filmmaking that veers into darkness, but ultimately proves the resilience of childhood and the human spirit. After all, "we all have the same strong."